Hire Expedition and Camping Accessories - Lever Lock Walking Pole Hire, Power Monkey Solar Charger Hire, Petzl Head torch hire and Mosquito net hire. Solar charger ideal for trekking where no power source available, such as Kilimnanjaro expeditions. Primus Omnifuel stove also available for hire, works with LP gas, petrol, diesel and kerosene – even aviation fuel.
Your accessories are essential to ensuring a safe and comfortable hike. Petzl head torch hires are vital on dark nights on Kilimanjaro summits, while first aid kit hire ensure a safe expedition. Super light lever lock walking poles are ideal to take the strain off tired knees.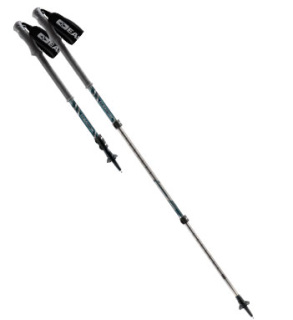 Lever Lock Walking Poles Pair Hire
Pair of walking poles ideal for taking the strain off your knees. We use Easton ATR-75 ion with a reduced grip diameter for a slimmer fit and lighter weight. High Strength Advanced 7075 aerospace aluminum construction. The three-tier design uses PatentedRock-Lock™ clamps for positive locking with on-the-go adjust-ability and can be easily taken apart to fit in your bag. Lightweight EVA extended foam grips add versatility & comfort. The clamps can be loosened and tightened by unscrewing/
screwing
the clamp lever.
The correct uphill/flat height of a walking pole is to hold your arm bent at 90 degrees and the tip should touch the floor. Extend the thickest part of the pole the furthest before extending the thinnest part. This puts less stress on the thinnest pole section and more on the thickest section. For walking down hill it is usual to extend the pole a bit longer to lean on the ground below you.
Winter and Summer Baskets available.
Fully extended: 53.5 in (136cm), Collapsed length: 24.5 in (62.2cm)
For some great sources of information on where to use your poles read some guides here
www.cicerone.co.uk