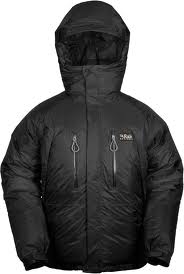 Rab Batura Down Insulated Jacket Hire; Arctic exploration, High Altitude Mountaineering approx -20C to -30C)
Stock of expedition grade jackets includesRab BaturaNanok expedition proMontane Deep ColdMountain Equipment Expedition & AnnapurnaBergans of Norway Expedition Down ParkaMountain Hardwear Absolute Zero. Ideal For climbing Aconcagua, Denali, Arctic Exploration, etc£65 for 2 week RRP £400-£550
​
Totally windproof and highly water resistant outer shells
These jackets have between 400 and 510 grams of minimum 850-750 fill down in them and are ideal for mountaineering and arctic expeditions.
Please specify size when ordering via email (see contact page), this type of clothing shouldn't have large gaps when put on and should be normal, not baggy fit, to minimise air spaces.

Please discuss with us your intended use and we can suggest and supply the right down filled jacket for the temperature/climate you are visiting.