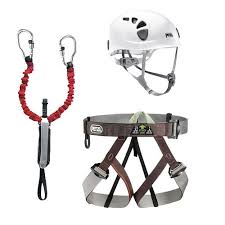 Petzl Via Ferrata Kit Hire
SKU:
Petzl
Via ferrata lanyard has all the features needed for spending an excellent day out on the cliffs. The retractable lanyard arms keep out of the way. Stored in a zippered pouch, the tearing energy absorber is protected and is easy to inspect. The third arm is great when traversing or when you need to rest by clipping directly to a rung.
Webbing has a twist in it for lark's head hitch :
- easy to attach on the harness
- optimizes the strength of the connection to the harness.
Available with two auto-locking carabiners, improved durability, minimal maintenance
PANDION harness:
adjustable leg loops allow size adjustment for comfort, DoubleBack buckles' for easy adjustability. They help prevent incorrect manipulation. flexible gear loop. Single Dyneema-reinforced tie-in point for increased durability.
state waist measurment when booking
Petzl Elios or Ecrin Rock Helmet
state circumference of head in cm when booking
For some great sources of information on where to use your kit read some guides here
www.cicerone.co.uk