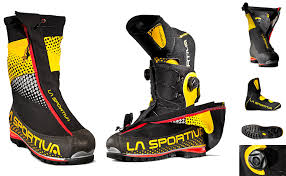 B3 La Sportiva G2 SM sizes Euro 42,44,48,49,50 ONLY
SKU:
B3 double plastic boot for people of size UK 11.75- 12 to UK14, very similar spec to the La Sportiva Spantik which it is replacing.
​Perfect for 6000-7000 meter peaks or anywhere that you need a toasty warm performance fit. Ideal for Elbrus, Aconcagua or Denali with an over boot.
​
It is step-in crampon compatible and provides excellent technical climbing capabilities.
IDEAL TERRAIN: ELBRUS, ACONCAGUA 6000-7000 meter peaks or high cold mountaineering conditions