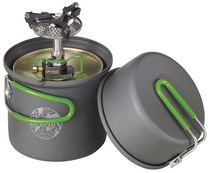 Lightweight Optimus stove and pot set
SKU:
We have titanium or aluminium pot stove combinations ideal for your race.
Pictured The smallest, most ultra light 3-piece Cook System combines the Crux Lite stove and Solo Cook Set. Set includes: Crux Lite stove (72 g/2.5 oz), 0.6 L (hard anodized aluminum) saucepan with pouring lip and measuring marks (mL and oz), fry pan that doubles as a lid, mesh storage bag and nylon storage bag to store Crux Lite stove. Note: When traveling, the set also offers ample space for a 110 g/4 oz gas cartridge (not included as cannot post Gas sorry).