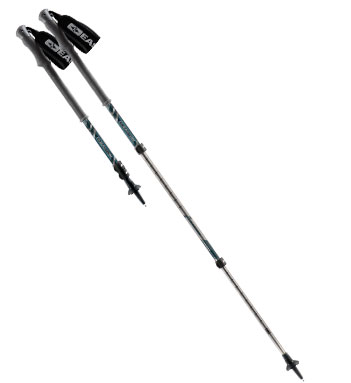 Lever Lock Walking Poles Pair Hire
SKU:
Pair of walking poles ideal for taking the strain off your knees. We use Easton ATR-75 ion/Leki Sherpa XL with a reduced grip diameter for a slimmer fit and lighter weight. High Strength Advanced 7075 aerospace aluminum construction. The three-tier design uses with lever locks, Lightweight EVA extended foam grips add versatility & comfort.
The clamps can be loosened and tightened by unscrewing/

screwing

the clamp lever (Easton) or by loosening or tightening the nut on the Leki clamps. So if your pole slides down when you puch on it then tighten 1 turn etc and try again until it holds. And loosen to take the poles apart from transporting in your hold luggage.
The correct uphill/flat height of a walking pole is to hold your arm bent at 90 degrees and the tip should touch the floor. Extend the thickest part of the pole the furthest before extending the thinnest part. This puts less stress on the thinnest pole section and more on the thickest section. For walking down hill it is usual to extend the pole a bit longer to lean on the ground below you.
Winter and Summer Baskets available.
Fully extended: 53.5 in (136cm), Collapsed length: 24.5 in (62.2cm)
For some great sources of information on where to use your poles read some guides here
www.cicerone.co.uk