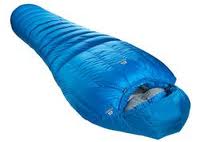 4 Season Down Sleeping Bag Hire Ideal for Kilimanjaro, Everest Base Camp etc (Approx -20C which is recommended temperature rating for Kilimanjaro)
SKU:
The ideal down sleeping bag hire for Kilimanjaro Expeditions
.
Prior to placing your order please specify your temperature requirements so that we send you the correct product.
Please specify the temperature range prior to ordering. Manufacturers
Tundra Pure & Dry -20C 1.19kg

If your female, cold sleeper (slower metabolism), of slim build, then please ring and discuss as we often suggest the 5 season bag, or fleece liner and can discuss options prior to placing an order. Please see our hints and tips section at the bottom of the page.