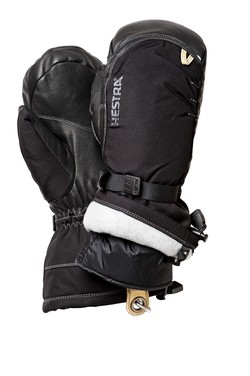 Arctic Glove System Hire (3 layer system)
SKU:
FEATURES & BENEFITS:


1)Quick drying liner gloves

2)Fleece/Primaloft (mid) inners

3) Mountain Equipment Down insulated Mitts or Hestra Army Expedition Mittens. Hestra Army Expedition Mitt comes with a removable 3 finger Primaloft liner both mittens are superb insulating systems for your hands.

Hestra are know for making some if not the best gloves in the World they make nothing else but gloves and mittens for professional skiers and outdoor enthusiasts. RRP £160 HIRE FOR JUST £30 Top tip don't touch anything metal with bare hands at -30C liner gloves are also called contact gloves keep them on for those short periods when you need some dexterity. Try and not expose you skin in very low temperatures as heat is lost very quickly. Spare liner gloves are a good ideal if you get you inners wet swap and dry them out inside pockets.
Please specify your middle finger to wrist measurement in cm when ordering for hire.