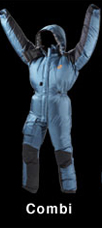 Valandre Combi Down Suit
SKU:
Fabric:
Asahi KASEI Impact 66 Polyamide WR Rip-Stop / Asahi KASEI Polyester WR Rip-Stop Down Quality:

Goose 850 cuin + (US Normes)
Total Weight: 56.05 oz. (1589 g.) Down Load: 20.74 oz. (588 g.) Length (inside):
S-M-L-XL-XXL Comfort Rating:
-31F (35C)
Combining the technical know-how of Valandré with the best down in the world, this union suit will let you focus on the summit and help keep you warm on the way up.