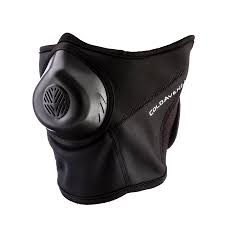 Cold Avenger Pro Sofshell Face Mask Hire
SKU:
The COLDAVENGER is the most high-performance half-face mask we offer and raises the bar in cold weather face and airway protection.
The Pro is made with a next generation "soft-shell" fleece that is wind and water resistant, perfect for those who are working at a higher rate of activity or moving faster in the cold.
Form-fitting half-mask design protects face, neck, ears and airway from cold weather
Soft medical grade and non-toxic polyurethane ColdAvenger® ventilator is comfortable and inherently antimicrobial.
ColdAvenger® ventilator allows you to breathe freely during outdoor activities while managing exhaled moisture off the facial skin.
ColdAvenger® ventilator passively warms and humidifies dry and cold winter air to promote airway health in the cold.
Hidden nose-wire improves comfort and customization of fit.
Designed to fit with goggles and helmets.
Helps prevent the fogging of goggles.
Adjustable, removable interior valve designed to disrupt the direct inflow of cold air.
Generous hook and loop closure design allows for a custom fit and universal sizing.