Hire Expedition and Camping Accessories - Lever Lock Walking Pole Hire, Power Monkey Solar Charger Hire, Petzl Head torch hire and Mosquito net hire. Solar charger ideal for trekking where no power source available, such as Kilimnanjaro expeditions. Primus Omnifuel stove also available for hire, works with LP gas, petrol, diesel and kerosene – even aviation fuel.
Your accessories are essential to ensuring a safe and comfortable hike. Petzl head torch hires are vital on dark nights on Kilimanjaro summits, while first aid kit hire ensure a safe expedition. Super light lever lock walking poles are ideal to take the strain off tired knees.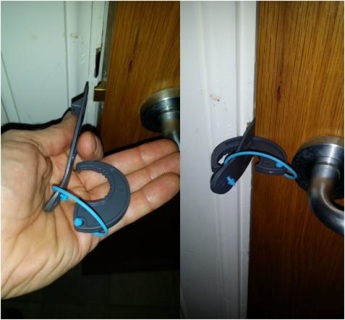 Travel Door Lock will lock any internal door with a standard lever action
This nifty little device slips into the hole in the door frame where the door latch goes, then you close the door and slide in the locking part through behind the door jamming it shut see picture. Can fit in under 5 seconds and gives you that added security when your sleeping. Can sometimes be used on those dodgy toilet doors as well thus preventing you having to do some gymnastics to hold the door shut whilst using the loo.
Weight: 10g
Dimensions: 94 x 40 x 12mm
Made of durable reinforced nylon
Simple and quick to install and release
Adaptable to nearly all internal doors
Provides tamper proof security
Ideal for travel