Jungle clothing and kit hire, bushcraft clothing and kit for hire, suitable for UK woodland bushcraft and jungle expeditions, - UK Hammock hire, Tarp hire, Basha hire, Water filter hire and rucksack hire. UK's top jungle and bushcraft equipment hirer, specialising in quality brands, such as Snugpak and Exped Hammock Hire, Water to Go water filtration hire.
Your jungle and bushcraft accessories are essential to ensuring a safe and comfortable trip, whether in your local woods or in the Jungles of Brunei and Costa Rica. Top quality jungle kit such as Snugpak and Exped hammock hire, Water to go water filtrater hire and tarp and basha hire ensure we take your safety as seriously as you do.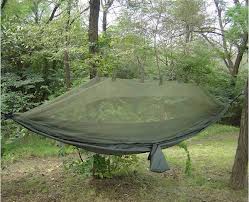 Jungle Hammock With Built in Mosquito Net Hire
The Jungle Hammock is great when you need protection from biting insects, but don't want to carry a tent or separate net around. The hammock has a mosquito net built in. Strong, simple and reliable, this hammock is the perfect solution to an undisturbed night's sleep when you're out in the woods or the jungle.
The mosquito net is made from 20D Polyester with 1000 mesh per square inch, to prevent insects from disturbing your sleep.
• Comes with a Suspension Attachment System including two steel carabineers, making setting up simple.
• Complete weight: 790g (includes hammock with net, carabineers, guy ropes.)
• Measures 275cm long by 145cm wide, to accommodate even the tallest campers.
• Will hold up to 175kg.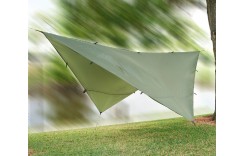 Tarp, Basha Shelter Hire
Whether you're expecting to encounter all weather conditions during one expedition, or you need a versatile shelter to protect you all year round, our All Weather Shelter will consistently protect you from the sun, wind, rain and snow.

Designed by experienced outdoorsmen and military veterans, this versatile shelter can be configured as a Fly, Pup Tent, Lean-To Shelter, Emergency Bivvi, the list goes on. The All Weather Shelter is great if you want just one shelter solution to suit all of your expeditions and ideal if you want to travel light and move fast. -

3 metres x 3 metres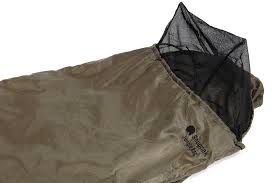 Snugpak Jungle Sleeping Bag Hire
When it's hot and humid outside, and biting insects fill the night sky, you need a performance sleeping bag that really takes care of you. We've designed the Jungle Bag with just the right weight of Travelsoft insulation to keep you comfortable, and added a roll away mosquito net which can be zipped over the face, sealing the sleeping bag from all manner of biting insects.

Its square shape means it can be opened up into a quilt for more versatility, and it's incredibly small compressed pack size makes it perfect for travelling.

The Jungle Bag is the perfect solution to an undisturbed night's sleep when you're out in the tropics.

WEIGHT 850g
LENGTH 220cm
WIDTH (CHEST) 82cm
WIDTH (KNEE) 82cm
WIDTH (FOOT) 82cm
PACK SIZE 15 x 18 cm (Fully Compressed)
TEMPERATURE Comfort: 7°c Extreme: 2°c
Built in mosquito net.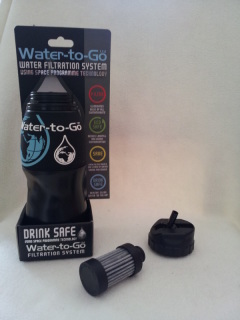 Water Filtration 75cl Drinks Bottle (Water to Go)
Each Water-to-Go filter cartridge lasts for 200 litres, or 3 months.

The filters were developed at the behest of NASA and are constructed utilizing nano technology. Nano alumina along with 33 % carbon and other filtration ingredients are utilized to bring about this amazing new patented process. The nano alumina emits a positive charge when wet and attracts the negative charged contaminants of protozoa, bacteria and virus. This revolutionary new process will make every drop of water more safe and refreshing. Finally a filter that really does what its supposed to do.

Unlike carbon block filters that lose as much as 70 percent of their area to the adhesives that hold the block together our carbon has zero adhesives holding it in place. The pore sizes of carbon block based filters are too big to stop any protozoa, bacteria or virus. Yes they filter chlorine and some heavy metals. They basically improve the taste of water without properly filtering out any of the more serious contaminants that can get into water supplies from time to time.

The bottom-lineWe have tested filters and the list of materials that Water-to-Go will 'catch' is a long one. Water-to-Go filters reduce the volume of contaminants in water by over 99.9%. Simply put they work!

Here is a selection of the contaminants we have tested for:




Metals & Chemicals
Chlorine
Chromium Mercury Nickel Copper Iron
Lead Arsenic Gold Silver
Aluminium
Volatile Organic Compounds including Formaldehyde

Virus
Norwalk Hepatitis A Tota Virus Adenoviruses Enteroviruses Reoviruses

Bacteria
Coliform E Coli Cholera Typhus
Dysentery Botulism Polio Virus Botulism
Vibrio Disease Campylobacteriosis
Leptospirosis – Weils Disease
Legionella (Legionnaires Disease and Pontiac Fever)

Oocysts- Protazoa
Giardia lamblia

Parasites and waterborne pathogens
This list is abridged but includes some of the most recognizable and common problems.

Fasciolopsiasis Taeniasis – Tapeworm
Echinococcosis Ascariasis
Coenorosis Schistosomiasis
Cryptosporidium Tryonosoma (Sleeping Sickness)
Threadworm Guinea Worm
Hookworm Roundworm
Pinworm Onchiocerca
Fasciola Hepatica/Liver fluke

Water-to-Go filters are intended to remove contamination from water.
Filters will become inefficient if used with additives such as isotonic powders, cordials, juices etc.
Not recommended to filter urine for drinking purposes.
Don't forget, the majority of cross infection is caused by poor personal hygiene. Wash your hands.
Remove filter and you can put the rest in the dishwasher
Available to purchase for £25